[An Interview with Todd C. Kaplan, Associate Director, NUPD & Emergency Manager at Northeastern University]
For those that work in Emergency Management, one of the greatest struggles is getting the general public to listen, educate, and prepare themselves in advance of an actual emergency. Todd C. Kaplan, PhD is the Emergency Manager for Northeastern University (NU) in Boston and faced a similar challenge. "We focus on building our community's condition of preparedness in order to further enable resilience. This capacity shapes the confidence of an individual to prevent, respond, and recover from critical incidents. The cascade effect then leads to the collective competency of preparedness for departments, campuses, and the entire university," explained Kaplan. Of course, this is easier said than done and despite a range of outreach efforts to students and faculty, there was an opportunity for something more.
If you've had similar thoughts or discussions at your university, below we share the basics of how Northeastern formulated a Preparedness Day to do just that. The hope is that other universities around the world will be inspired to undertake a similar project to help students be better educated and prepared so when they are faced with an emergency, they'll know what to do and can help themselves and those around them.
The Origin of the Idea

Admittedly, there are dozens of conferences for emergency managers to consider attending each year, but there's actually very little directed to a public audience. After discussing this with the NU Chief of Police, Michael Davis, Kaplan realized they had an amazing opportunity for NU to reach out to the community. Based on this, they began brainstorming and collaborating on how to provide preparedness information and training so their students and faculty could learn about a myriad of preparedness topics ranging from situational awareness, sustainability, cyber-safety, and everything in-between. They knew there was a need to go beyond traditional "tabling events" and e-mails to make it much more interactive and engaging.
How They Got Started

Kaplan and his team, including NU's Continuity Coordinator McKinley Theobald, approached key stakeholders throughout the university and the ideas kept blossoming. Before they knew it, this turned into an exhibit hall full of interactive experiences with 20+ partners along with an assortment of training opportunities. These training opportunities were not just from the NU Police Department and Office of Emergency Management, but a wide range of partners that included University Health and Counseling, as well as partners from the Boston Public Health Commission and Boston Office of Emergency Management. Partners were asked to focus their content on a student and faculty population and were invited to create presentations suitable for workshops. You can see a full list of the partners on the NU agenda available at https://bit.ly/nuprepday
Resources Required to Execute

At the same time they were reaching out to partners, they engaged with the university to work through the basic logistics (i.e. Where could the event be hosted to support the space required for an expo + meeting rooms, AV requirements and support, catering, marketing resources to promote the event, etc.).  In general, they found resources were not the obstacle, given most of these are freely available at a university. Rather, it's having the people to address the project management aspects of the overall event to make sure all the little things get done in time. In the case of NU, much of that initially fell to Kaplan and his team, but they were fortunate to have support from a number of different departments and stakeholders. For example, in addition to the partners appointing individuals to participate in the NU event, many provided give-away items. There was also a formal Planning Committee to help 'divide and conquer' the tasks.
It was clear that the importance of having senior executive involvement in the university that can reach out to various departments and solicit support when appropriate was vital. After conceptualizing the event, the next phase was to earn support from leadership before moving forward. If you work in higher education, you're painfully aware of the bureaucratic and political tendencies of higher education institutions and having those with broad reach who can champion your cause and break through some of the so-called barriers is critical – and must be championed early in the process.
The Elements of Success

As Kaplan described, "I avoid the term 'best practice' in the traditional sense because organizations are unique so what works for one, may not be the best for another. I prefer to consider the model and philosophy behind the concepts that are successful. If your organization can benefit from applying the philosophy as a driving force, then these types of initiatives will naturally evolve and can be catered to the organization." Despite the nuances, there were a number of underlying factors which contributed to the success of the event at Northeastern. Some of those factors and lessons learned are covered here – to help others avoid having to re-invent the wheel.
Your Partners
When selecting partners to participate, choose the groups inside your university as well as those in your local community. This allows those attending to engage with everyone in one place and ask all the questions they want to ask. For example, Kaplan and his team pulled in Northeastern's University Health and Counseling, Environmental Health and Safety, Residential Safety, Information Security, and International Safety offices, to name a few. At the same time, the U.S. Department of Homeland Security, contract security and medical partners, student EMS groups, and the local public health commission were involved to make the event as impactful as possible.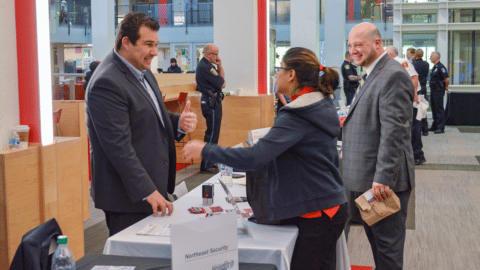 Interactive Exhibits are Essential for Engagement
NU had organized, with support from partners, a fire simulation station, a hands-only CPR station, and a mockup office space to go hands on with cyber and information security awareness. Partners at the event also included several college departments and academic units that presented new research relevant to safety and preparedness. Kaplan shared, "This was an innovative way to connect ordinarily disparate areas of our organization – academic research and operations. There is often a disconnect between the leading-edge research taking place at our academic institutions and the operational processes of the organization. A component of our philosophy, is to connect these groups and build the network in which we are all a part of."
Host the Event on Campus in Accessible, High-traffic Areas
Make it convenient for faculty and staff to attend, yet also accessible for the greater community beyond. For both 2018 and 2019, NU hosted the event in the Student Center, which proved successful as they were able to expose more students to various safety messages, even those who didn't register or even know about the event in advance of the event. In other words, hold the event in high-traffic areas to increase the visibility. In 2019, they made the event a bit more casual, so students felt comfortable approaching the partners. Basically, they wanted to create a friendly environment where people could attend a few sessions, and spend as little or as much time as one wanted, depending on the level of interest. NU's event this year was 1.5 days and featured various keynote speakers and break-out sessions. The event was free to attend and although food and beverage was provided, a university could hold a similar event near a food court to address some of those costs.
Reach Beyond the On-site Event
As a global institution, Northeastern has campuses throughout the world. As Kaplan explained, "To facilitate participation in other regions of the globe, we leveraged technology to live stream and record several of the sessions. This broadened the reach of Preparedness Day and provided recorded content that can be consumed by the community at their own cadence, no matter where they exist in our network. Several regional campuses participated by having their own Preparedness Day sessions locally as well."
Marketing and Promotion
When it came to promoting the event, typical e-mails, social media, and signs were used though a couple other tactics NU employed helped them achieve a total of 400 registered participants for the event. "We created a physical postcard that was delivered to the mailboxes of faculty and staff. Our research found that they were more likely to post it on their calendar or leave it on their desk as a reminder," explained Kaplan. When NU conducted tests of the emergency notification system, a reference about the upcoming Preparedness Day was added inviting everyone to check out the event website – an interactive and informative event website goes a long way to engage and build interest. A university-wide e-mail was sent once the formal agenda was established. Even when in draft form, the agenda is significant when considering the scheduling of faculty and staff calendars. In addition, the university created a video to help promote the event
The Benefits of Preparedness Day

Admittedly, they weren't sure how the event would be received, but based on the 340 people that participated in the first year, it turned out there was indeed a demand for a Preparedness Day. Staff and students were curious to learn more and this event provided them with answers to their questions, including from partners that weren't typically easily accessible on campus.
Going into the event, Kaplan and his team were hoping that Preparedness Day at NU would help foster relationships that might not otherwise happen – because people were in the same place at the same time engaging with one another. Fortunately, that came to fruition. The NU Sustainability Office made a great connection with the Boston Public Health Commission. And the Chief of Police spoke to CriticalArc's CEO about their SafeZone Indoor Positioning Solution and they were able to flush through some technical requirements on the spot by engaging with NU's Office of Information Security, who was only steps away.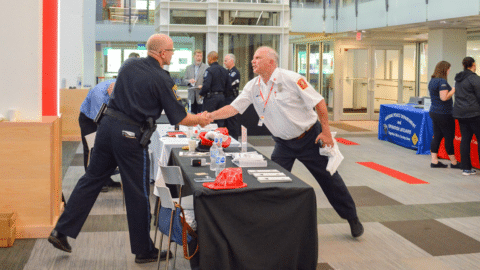 And, in 2018, perhaps Kaplan's favorite example was seeing ranking officers from the Boston Fire and Police Departments laughing together, engaged in conversation, and ending with an exchange of business cards and a genuine handshake. Sure, they may have known of one another but they may have never had the opportunity to connect and have an engaging conversation. There were a lot of these types of connections being made throughout the event. Kaplan further explained, "We love seeing business cards exchanged when skies are clear and crisis is at bay – not on the frontlines of the field."
"We can say with confidence that there are hundreds of people more prepared today than there were before Preparedness Day year after year. That was the goal – to make sure we're building preparedness to prevent, respond, and recover from whatever type of unexpected incident arises and develop confidence at the individual level, which cascades into our collective preparedness," said Kaplan.
"I hope that others are able to benefit from the model, concepts, and philosophy of building preparedness through the individuals within an organization. It is crucial to present information, training, and exercise opportunities in the most effective way for your organization to prevent, respond, and recover from all forms of unexpected events," Kaplan stated in his final remarks. Whether your organization is considering putting on your own Preparedness Day or tackling another initiative, the guidance shared here is intended to help equip your team to undertake a similar type of mission.
In you'd like to connect with @Todd C. Kaplan, PhD, you may reach out on LinkedIn or e-mail him directly at t.kaplan@northeastern.edu.