With hurricane season upon us (June 1 – November 30), how confident are you in your organization's ability to respond to major weather events? How robust is your infrastructure, and will it stand up to greater storm intensity?
It's worth asking, and stress-testing your preparedness, because increasingly we see the risk of extreme weather impacting beyond the areas immediately affected, with disruption to power, communications, data facilities and, of course, to people.
Last year the U.S. experienced 18 separate weather and climate disasters costing at least $1bn each – putting it in context, that's the third worst year on record – with 474 direct or indirect fatalities. Of these disasters, hurricane Ian was by far the costliest, causing losses of $112.9bn. Meanwhile, in Australia, last year's storms and floods that impacted South-East Queensland and coastal New South Wales were the country's costliest ever, according to insurance data.
It's important to note that the financial cost of any weather disaster has to be calculated in context, and will be affected by factors such as supply chain disruption and materials costs; when critical infrastructure is impacted, that makes recovery more difficult and increases costs further.
How Prepared Are We?
So we're gauging industry opinion on preparedness in an online poll this month – if you have a moment to answer just one question, here's the link. We're interested to hear what you have to say, and we'll publish the results here next time.
Some organizations may be less focused on the risk of catastrophic water and structural damage this year, with NOAA forecasters predicting 'near normal' Atlantic hurricane activity compared to the increased level seen in 2022. El Nino is already developing, and it tends to suppress activity.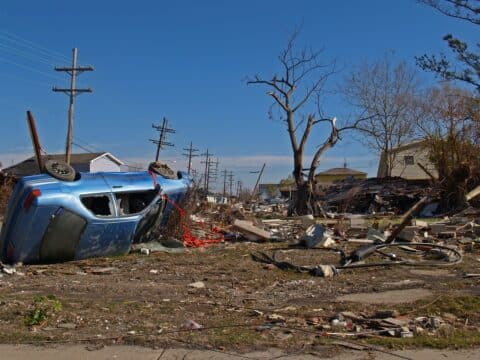 But that's no reason to relax, the risk is still very present. Up to 17 named storms (winds over 39 mph) are still expected, and between five and nine could become hurricanes (74 mph or higher), with one to four being major hurricanes (category 3, 4 or 5; with winds of 111 mph or higher).
And we are witnessing with increased frequency how unusual extreme environmental conditions can impact communities and whole regions, in ways that are new and unexpected. None of us should be surprised that climate change is leading to increased risks, and we know that the threat of disruption will increase as we surpass the 1.5 degrees global warming threshold.
Climate modelling  – for example, that reported by  Tom Knutson, Senior Scientist, NOAA/GFDL – predicts that while increased global temperatures may bring no change in hurricane frequency, the bad news is that when hurricanes that do develop are predicted to be more damaging: there will be an increase in hurricane wind intensity (up by 1-10%, at 2-degrees global temperature increase) and more intense rainfall (up by 10-15%), with an increased risk of storm surges and coastal flooding.
Stress-Testing Policies
Organizations should prepare for these risks by reviewing their existing policies, and stress-testing each stage. This should cover advanced monitoring and warning systems, incident management, command and control, and post-incident recovery and management plans.
They should review how they will communicate with all their people, on and off-site? Are their communications platforms resilient, and what could cause them to fall down?
How will they coordinate their active response teams – including contractors or volunteers drafted in to provide additional support? And how will they coordinate with external agencies?
When a storm hits, it's essential for you to know how your people are being impacted, what their situations are, and where they are. At that point, it may also be vital to connect them with local responders who can provide assistance. And that also means coordinating those responders, and directing them to where they are most needed.
Robust communications are key, including targeted comms that allow specific messages to be directed to those in the danger zone, and timely warnings to those who need to be kept away.
Once the immediate incident is dealt with, the recovery phase also needs to be managed to minimize disruption. And again, having robust infrastructure and well-rehearsed response teams, is essential.
The time to check that you have these, and to stress-test your plans, is in advance.
We'll look at some practical steps and some innovative approaches in our next insight piece and will tell you how far other organizations are reviewing their preparedness and resilience strategies to deal with the ever-evolving hurricane risk.